Pepwave MAX 700

The ultimate in mobile connectivity
Call us Today at 844-294-0779 for a price quote!
Pepwave Products
Pepwave MAX Mobile Router
MAX 700
#MAS-GN2-R
List Price: $1,999.00
Call for Lowest Price!
More pricing below, click here!
Overview:
Turbocharged Mobile Access. Anytime. Everywhere.
The Pepwave MAX On-The-Go/700 bonds the bandwidth four 4G LTE/3G USB modems using SpeedFusionTM technology to deliver secure and fast Internet or VPN connections anywhere. You can even create your own hotspot or boost your bandwidth with available Wi-Fi connections using built-in 802.11n networking, making the MAX On-The-Go/700 the ultimate mobile connectivity solution.
SpeedFusion Bandwidth Bonding and Seamless Failover
SpeedFusion bandwidth bonding technology bonds all connected bandwidth into a single superfast stream, using the same or different cellular providers.
Unparalleled Modem Compatibility
Supports 250+ USB cellular modems from more than 100 carriers. You can plug in and start surfing instantly. But if not, just connect your modem and turn on Remote Assistance – our engineers will get right to work on adding support for your modem.
Fleet Tracking and Management
With built-in GPS fleet tracking and InControl 2 cloud-based management, you can keep tabs on location and manage your mobile network from any Internet-connected device.
Customize Captive Portal
Branding your captive portal is as easy as uploading your logo and terms & conditions. You can easily set bandwidth allowance and access duration per user or manage access using RADIUS.
Certified Toughness
In addition to rugged metal enclosure, HD4 has certifications on: Shock and vibration resistance (EN 61373:1999, IEC 61373:1999) Railway applications (EN 50155) Electromagnetic Compatibility (EN 61000)
Applications:
First Responders – Unbreakable VPN for Mission-Critical Emergency Communication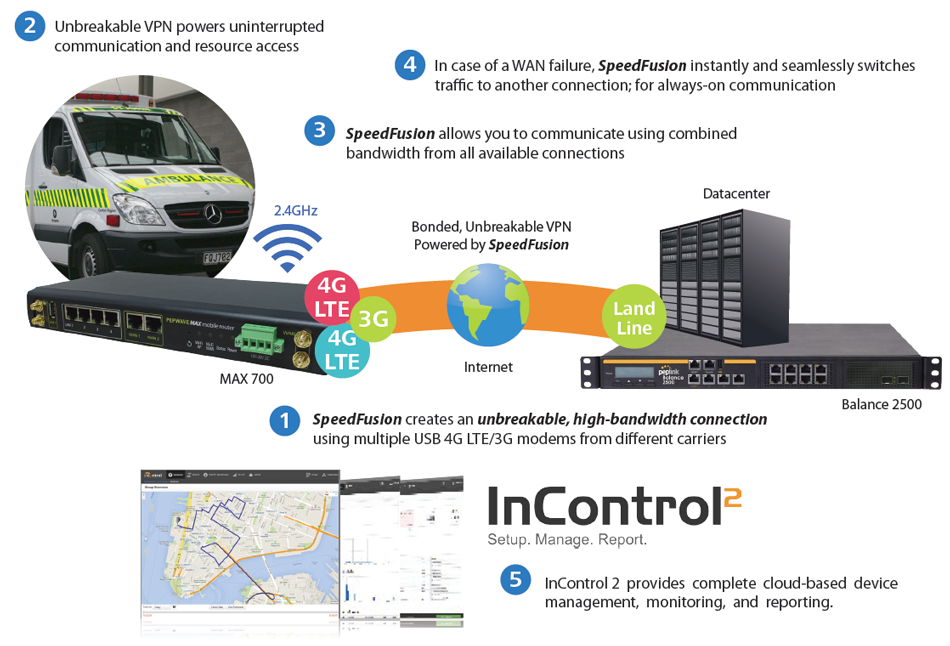 SMBs – Landline Alternative for Construction Site and Remote/Temporary Workstation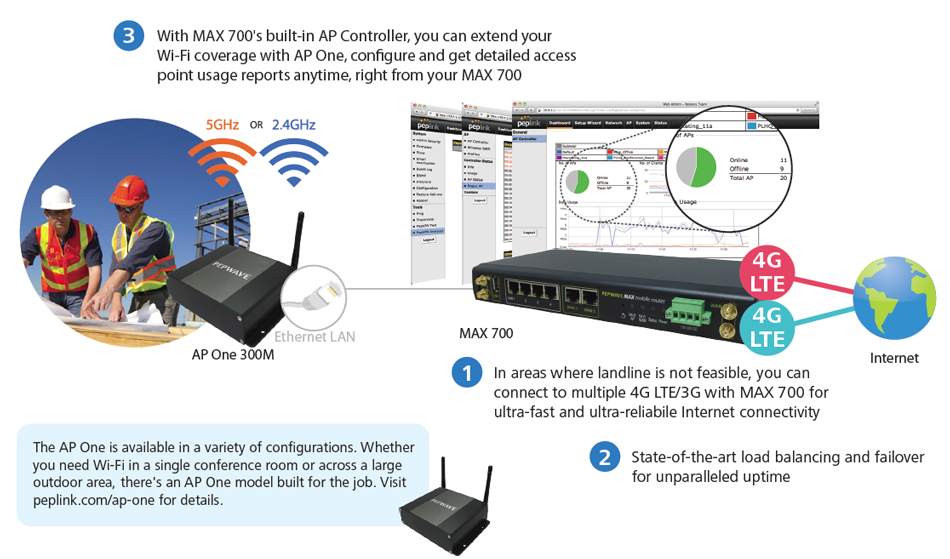 Broadcasting and Media – Blazing Fast Video Broadcast on Multiple 4G LTE/3G Links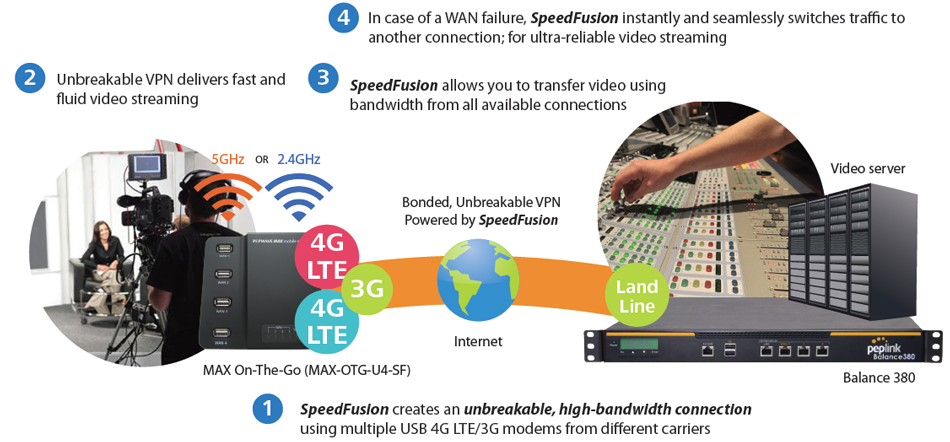 Specifications:
Software

USB Cellular Modem Support

WAN

Support for PPPoE, Static IP, DHCP
WAN Link Health Check
Bandwidth Allowance Monitor
USB Cellular Modem Support
IPv6 Support
Support for Dynamic DNS services

LAN

DHCP Server for LAN Clients
Extended DHCP Option
DHCP Reservation
DNS Proxy for LAN Clients
VLAN on LAN Support

Load Balancing

Intelligent Failover
Session Persistence
Per-Service Load Distribution
Multiple Algorithms

Weighted
Enforced
Persistence
Priority
Overflow
Least Used
Lowest Latency

Security

Stateful Firewall
DoS Prevention
Web Blocking

Complete VPN Solution

PepVPN/SpeedFusion Hot Failover/SpeedFusion Bandwidth Bonding

Site-to-Site VPN
Bandwidth Aggregation
Hot Failover
256-bit AES Encryption
Pre-shared Key Authentication
Dynamic Routing
X.509 Certificate Support

IPsec VPN (Network-to-Network) 1

X.509 Certificate Support

Networking

NAT and IP Forwarding
Static Routes
Port Forwarding
Many to One, One to One NAT
NAT Pool
SIP ALG, H.323 ALG
UPnP, NAT-PMP
WINS Server
VRRP HA support

Captive Portal Support

Support for Wired and Wireless LAN Clients
Support for RADIUS Authentication
Support for LDAP Authentication2
Time and Usage Quotas on Open Access Mode
Built-in Customizable Splash Page

AP Controller

AP Controller Support
Wi-Fi Usage Statistics

Advanced QoS

User Groups

Bandwidth Reservation
Individual Bandwidth Limit

Application Prioritization

By User Groups
SIP, HTTPS, VPN QoS
Custom Application QoS

Device Management

Web Administrative Interface
Command Line Interface
InControl Cloud Management
Email Notification
Active Client and Session Lists
Bandwidth Usage Statistics
Syslog Service
SNMP v1, v2c and v3

Package Content

MAX 700
12V3A Power Supply
4x 5dBi Wi-Fi Antennas
1 Pair of Mounting Brackets

Certifications

FCC, CE, RoHS
Shock and Vibration Resistance – EN 61373:1999 IEC 61373:1999
RF Port Lighting Immunity – ITU-T K.20 (+/- 1.5 kV)
1 IPsec VPN supports connection with Cisco, Juniper, Peplink, or Pepwave devices.
2 Feature is available as an upgrade.
All specifications are subject to change without notice.
Compare:
Model
MAX On-The-Go
MAX 700
Ethernet WAN Ports
1 (FE)
2 (GE)
Ethernet LAN Ports
1 (FE)
4 (GE)
USB WAN Modem Port
4
4
Wi-Fi WAN 1
*
Wi-Fi AP 1
Wi-Fi Standard
802.11a/n or /b/g/n 150Mbps
802.11b/g/n
300Mbps 2x2 MINO
Transmit Power (2.4GHz)
20dBm
29dBm
Transmit Power (5GHz)
20dBm
Recommended Users 2
1-25
1-50
Router Throughput 3
100Mbps
100Mbps
VPN Functionality
PepVPN/SpeedFusion Hot Failover
SpeedFusion Bandwidth Bonding
#
Number of PepVPN SpeedFusion Peers
2
2
PepVPN/SpeedFusion Throughput (No Encryption)
40Mbps
60Mbps
PepVPN/SpeedFusion Throughput (256-bit AES)
20Mbps
30Mbps
Central Management
InControl Cloud Management
GPS Fleet Management
AP Controller Functionality
Manage Pepwave AP Series
Maximum Number of AP Support
10
Hardware Features
Enclosure
Low-Profile, All-Purpose
Indoor Metal
Terminal Block Power Connector for
Mobile/Vehicular Deployment
Dimensions
(Height x Width x Depth)
1.2 x 4.3 x 4.3 inches
30 x 110 x 110 mm
1.6 x 10.2 x 5.7 inches
39.5 x 260 x 143 mm
Weight
0.43 pound
195 grams
2.65 pounds
1.2 kg
Operations
AC Adapter
AC Input 100V-240V
DC Output 12V, 2A
AC Input 100V - 240V
DC Output 12V
Power Input
DC 12V - 48V 2A
DC 10V - 30V DC, 3A
Terminal Block
DC 10V - 30V DC, 3A
Power Consumption
9W (without modems)
20W (max.)
25W (max.)
Operating Temperature
-14° – 149°F
-10° – 65°C
-40° – 149°F
-40° – 65°C
Humidity
15% – 95% (non-condensing)
Certifications
FCC, CE, RoHS
Certifications – Rolling Stock
Shock and Vibration Resistance:
EN 61373:1999 IEC 61373:1999
Warranty
1-Year Limited Warranty
1The frequency range for 802.11b/g/n Wi-Fi and 802.11a/n Wi-Fi are 2412−2472 MHz and 5180−5825 MHz respectively.
2 Recommendation for sizing purposes only. No software restrictions applied.
3 Router Throughtput is based on Ethernet frame sizes of 1280 or 1518 bytes. Actual performance can vary across different networking environments.
* The MAX On-The-Go supports only one of 802.11b/g/n and 802.11a/n Wi-Fi at a time.
# Feature is available only on MAX-OTG-U4-SF.
Pricing Notes:
Pricing and product availability subject to change without notice.
Pepwave MAX 700
MAX 700
#MAS-GN2-R
List Price: $1,999.00
Call for Lowest Price!
Peplink SmartCare
Peplink SmartCare 1-Year for MAX 700
#PSC-141
List Price: $499.00
Call for Lowest Price!
Peplink SmartCare 3-Year for MAX 700
#PSC-341
List Price: $1,379.00
Call for Lowest Price!
Extended Warranty
Extended Warranty for MAX 700, 1 year
#SVL-717
List Price: $349.00
Call for Lowest Price!
Extended Warranty for MAX 700, 2 years
#SVL-640
List Price: $659.00
Call for Lowest Price!