Pepwave MAX BR1 IP67

Ruggedized Single Cellular Outdoor Router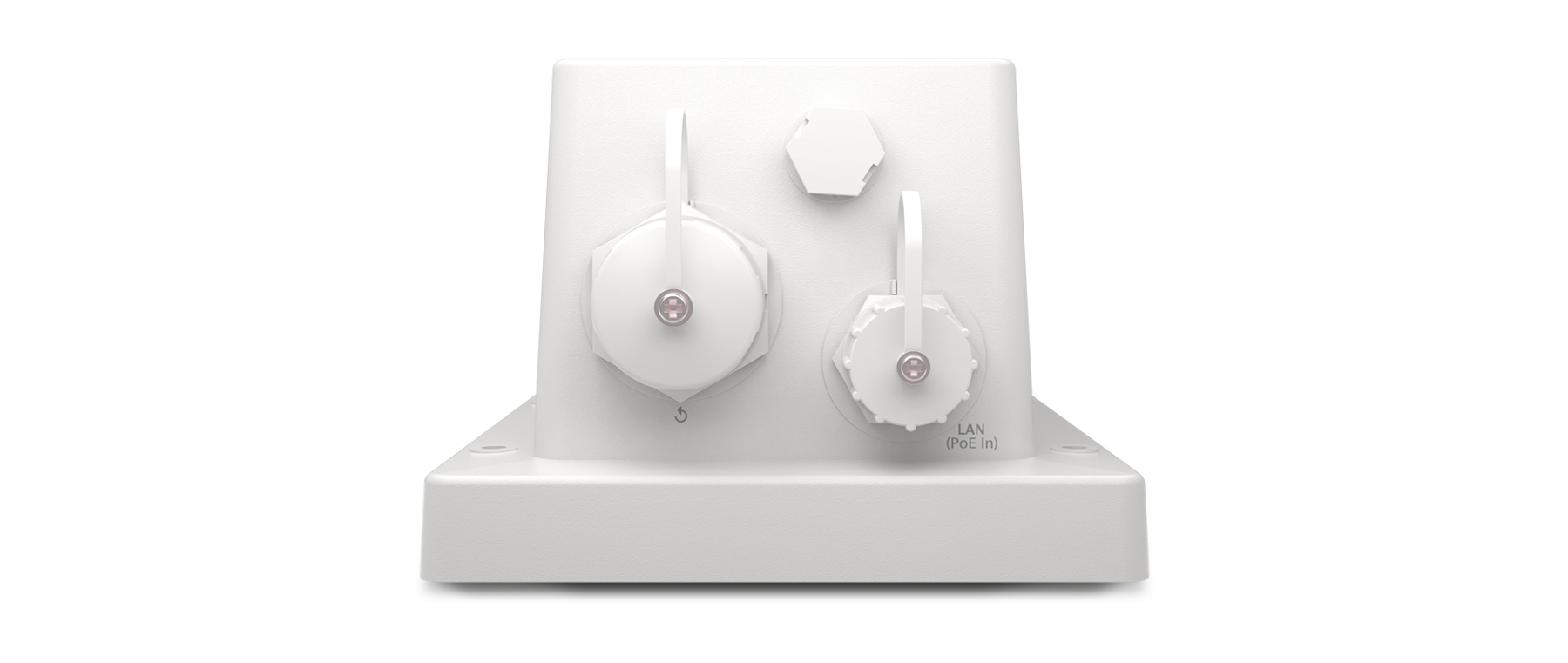 Sorry, this product is no longer available, please contact us for a replacement.
More pricing below, click here!
Overview:
The BR1 IP67 outdoor router offers an embedded cellular modem in a tough IP67 enclosure, making this the most accessible of our IP67 rated cellular router family.
Compact Super-Duty IP67 Enclosure
The BR1 IP67 outdoor router is as small as it is tough. It has a waterproof IP67 enclosure that stands up to dust, vibration, and inclement weather.
PoE Input
Cut down on cabling and simplify deployments. The BR1 IP67 supports 802.3af PoE input, so one wire is all you need for both connectivity and power. For non-PoE enabled Ethernet cables, the 802.af PoE Injector is available as a separate accessory.
SpeedFusion Hot Failover
In case of Wi-Fi or cellular WAN failure, the BR1 IP67 supports Hot Failover between the Wi-Fi and cellular WAN connections, giving you session persistence for uninterrupted productivity.
Redundant SIM Slots
Redundant SIM slots with automatic switching for reliable connectivity. You can also set the MAX BR1 IP67 to automatically switch SIM cards when you're in danger of exceeding a data cap. It also allows you travel across borders without changing SIM cards manually.
Fleet Tracking and Management
With built-in GPS fleet tracking and InControl 2 cloud-based management, you can keep tabs on location and manage your mobile network from any Internet-connected device.
Application: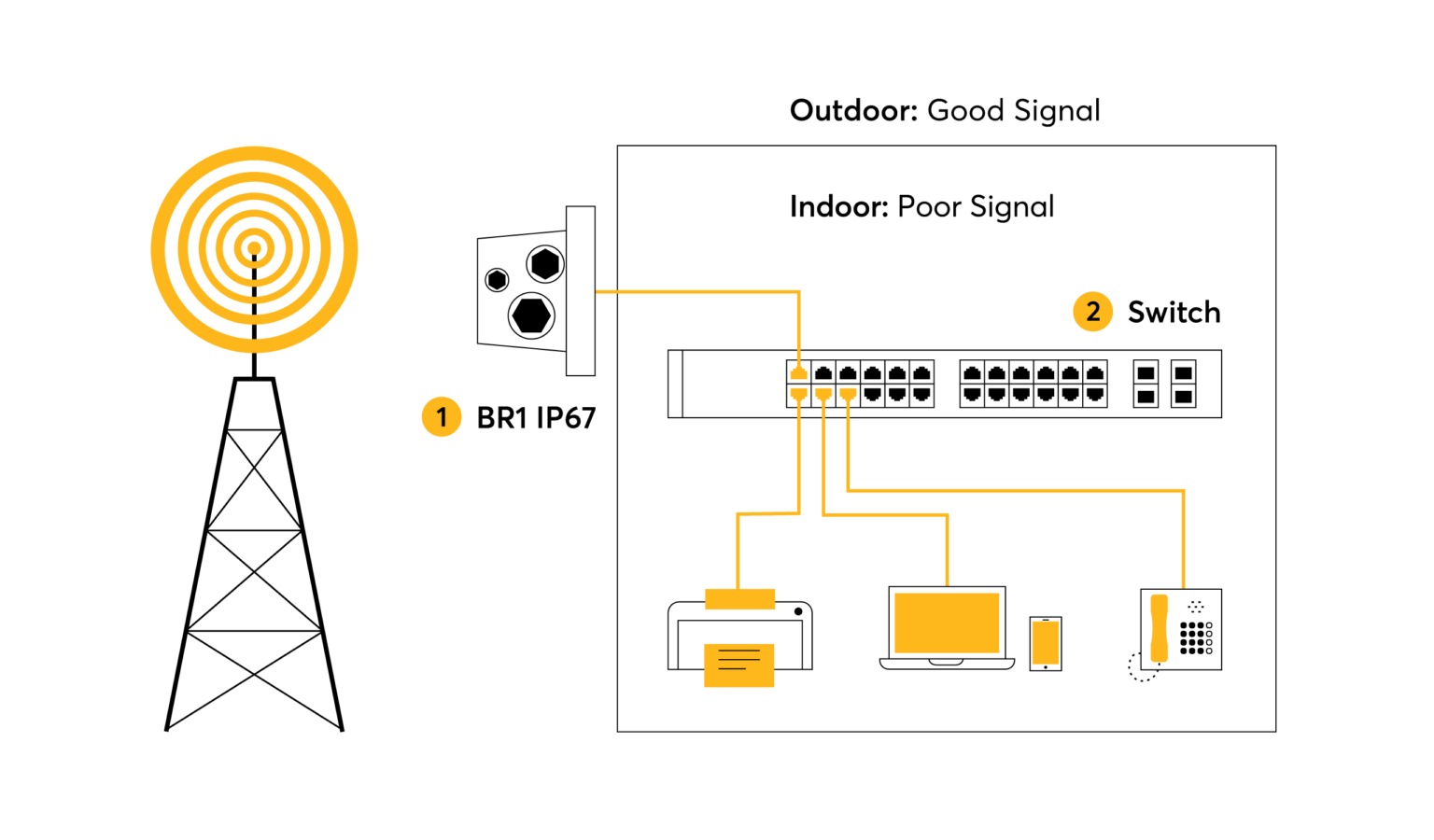 1.
The BR1 IP67 connects the outside cellular signal with the inside network using just a single PoE cable.
2.
The switch then delivers the improved connectivity to clients.
Features:
Software

WAN

Support for PPPoE, Static IP, DHCP
WAN Link Health Check
Bandwidth Allowance Monitor
Support for Dynamic DNS services
WAN Port Convertible into LAN Port

LAN

DHCP Server for LAN Clients
Extended DHCP Option
DHCP Reservation
DNS Proxy for LAN Clients
VLAN on LAN Support

Networking

NAT and IP Forwarding
Static Routes
Port Forwarding
Many to One, One to One NAT
NAT Pool
SIP ALG, H.323 ALG
UPnP, NAT-PMP
WINS Server
VRRP HA support

Complete VPN Solution

PepVPN/SpeedFusion

Site-to-Site VPN
Hot Failover
256-bit AES Encryption
Pre-shared Key Authentication
Dynamic Routing
X.509 Certificate Support

PPTP VPN Server

RADIUS, LDAP Authentication

IPsec VPN (Network-to-Network) 1

X.509 Certificate Support

Captive Portal Support

Support for Wired and Wireless LAN clients
Support RADIUS Authentication
Time and Usage Quotas on Open Access Mode
Built-in Customizable Splash Page

Advanced QoS

Individual Bandwidth Limit
Application Prioritization

SIP, HTTPS, VPN QoS
Custom Application QoS

AP Controller

AP Controller Support
Wi-Fi Usage Statistics

Device Management

Web Administrative Interface
Command Line Interface
InControl Cloud Management
Email Notification
Active Client and Session Lists
Bandwidth Usage Statistics
Syslog Service
SNMP v1, v2c and v3

Global Positioning System

Integrated GPS
Device Location Map
Location Tracking Data with InControl 2
Fleet Management with InControl 2

Security

Stateful Firewall
DoS Prevention
Web Blocking

Package Content

MAX BR1 IP67,
1 x Waterproof Ethernet Connector Kit
1 IPsec VPN supports connection with Cisco, Juniper, Peplink, or Pepwave devices.
Compact Super-Duty IP67 Enclosure The BR1 IP67 outdoor router is as small as it is tough. It has a waterproof IP67 enclosure that stands up to dust, vibration, and inclement weather.

All specifications are subject to change without notice.
Specifications:
Particulars
MAX BR1 IP67
WAN Interface
1x Embedded LTE Modem with Redundant SIM Slot
LAN Interface
1x 10/100M Ethernet Port
Wifi Interface
802.11b/g/n Wi-Fi WAN or AP
Drop In Mode
No
GPS Antenna
Integrated
Included Antenna
Built-In Omni Antenna
Wi-Fi Antenna gain: 5dBi for 2.4GHz,
Cellular Antenna gain: 3dBi for 2.4GHz
Recommended Users
1-60
Router Throughput3
100Mbps
PepVPN/SpeedFusion Throughput (No Encryption / 256-bit AES)
40 Mbps / 20 Mbps
Number of PepVPN SpeedFusion Peers
2
Dimensions
(Height x Width x Depth)
5.55 x 6.38 x 3.98 inches | 141 x 162 x 101 mm
Weight
680 g | 1.50 lb
Power Input
802.3af PoE, 48V Passive PoE
Power Consumption
12W (max.)
Operating Temperature
-40° – 149°F | -40° – 65°C
Certifications
FCC, CE, RoHS, IC
EN 61000: Electromagnetic Compatibility
Warranty
1-Year Limited Warranty
Pricing Notes:
Pricing and product availability subject to change without notice.
Peplink Products
Adapters
4x4 MIMO LTE / GPS
Black IP67 Omni 5-in-1 4x4 MIMO LTE / GPS N adapter
#ANT-MB-40G-N-B-6
Our Price: $249.00
4x4 MIMO LTE / GPS
White IP67 Omni 5-in-1 4x4 MIMO LTE / GPS N adapter
#ANT-MB-40G-N-W-6
Our Price: $249.00
4x4 MIMO LTE / GPS
Black IP67 Omni 5-in-1 4x4 MIMO LTE / GPS QMA adapters
#ANT-MB-40G-Q-B-1
Our Price: $249.00
4x4 MIMO LTE / GPS
Black IP67 Omni 5-in-1 4x4 MIMO LTE / GPS QMA adapters
#ANT-MB-40G-Q-B-6
Our Price: $249.00
4x4 MIMO LTE / GPS
White IP67 Omni 5-in-1 4x4 MIMO LTE / GPS QMA adapters
#ANT-MB-40G-Q-W-1
Our Price: $249.00
4x4 MIMO LTE / GPS
White IP67 Omni 5-in-1 4x4 MIMO LTE / GPS QMA adapters
#ANT-MB-40G-Q-W-6
Our Price: $249.00
4x4 MIMO LTE / GPS
Black IP67 Omni 5-in-1 4x4 MIMO LTE / GPS SMA adapters
#ANT-MB-40G-S-B-6
Our Price: $249.00
4x4 MIMO LTE / GPS
White IP67 Omni 5-in-1 4x4 MIMO LTE / GPS SMA adapters
#ANT-MB-40G-S-W-6
Our Price: $249.00
4x4 MIMO LTE / 2x WIFI / GPS
Black IP67 Omni 7-in-1 4x4 MIMO LTE 2x WIFI / GPS SMA
#ANT-MB-42G-S-B-6
Our Price: $299.00
4x4 MIMO LTE / 2x WIFI / GPS
White IP67 Omni 7-in-1 4x4 MIMO LTE 2x WIFI / GPS SMA
#ANT-MB-42G-S-W-6
Our Price: $299.00