Peplink MediaFast 200

Lightning Fast Content Delivery. And So Much More.
Call us Today at 844-294-0779 for a price quote!
Peplink Products
Peplink MediaFast
Peplink MediaFast 200
#MFA-200-W
Call for Lowest Price!
More pricing below, click here!
Overview:
MediaFast is our supercharged content caching and all-in-one mobile device management solution. Designed with education and entertainment in mind, it downloads and buffers video, audio, iTunes/iTunes U, HTTP, and other content for uninterrupted learning and fun anytime.
Prefetch. Off-Peak Downloads. Anytime, Anywhere Playback.

Schedule one-time or recurring content downloads during off-peak hours, and then playback downloaded content anytime. Need HD video and other content in places with spotty or congested Internet connections? Download whenever and wherever the connection is best. Then pack up and take the MediaFast anywhere you need seamless content delivery.
Reporting. Insight. On-Demand.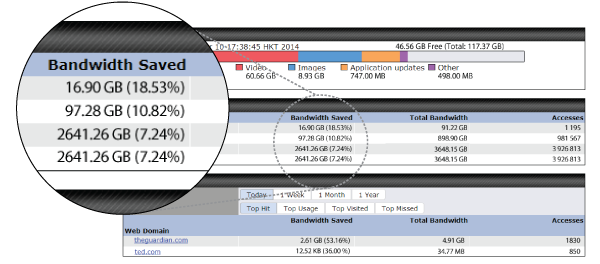 Check bandwidth usage and savings. Track popular URLs and file types. You can also monitor client IP addresses, find your heaviest users, and more, all from a single intuitive interface.
MDM. Complete iOS Device Control. All in One Place.
Provision and manage iOS devices without additional gear or software tools. It's easy to track device inventory, monitor battery levels, and install or remove apps. You can even lock devices, set restrictions, and erase content, right from MediaFast.
Cache. Download x1. Playback x∞.
Cache iTunes/iTunes U and other content automatically by domain and file type. With MediaFast, you can download once and play back over and over again, cutting loading time, bandwidth usage and cost. Keep content as long as you like or purge it automatically by file type and age.
SpeedFusion. Bonded Bandwidth. 24/7 Connectivity.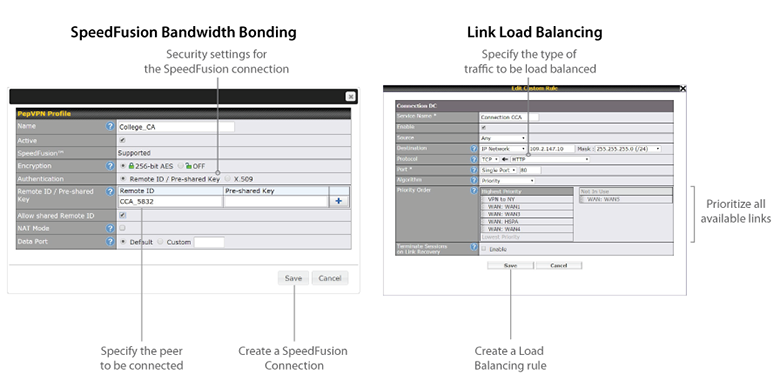 Take advantage of all available connections with SpeedFusion bandwidth bonding and load balancing. Automatic failover keeps your learners learning and teachers teaching, even when a link fails.
InControl 2 and AP Controller. Your Network. At Your Fingertips.
Monitor and manage routers, access points, and other connected devices with InControl 2 and AP Controller. Wi-Fi networks are easy to set up, and you get complete control over your entire wireless and wired network from any compatible Web browser.
Features:
WAN

Support for PPPoE, Static IP, DHCP
WAN Link Health Check
Bandwidth Allowance Monitor
USB 4G LTE/3G Modem Support
Support for Dynamic DNS Services
IPv6 Support

LAN

DHCP Server for LAN Clients
Extended DHCP Options
DHCP Reservation
DNS Proxy for LAN Clients

DNS

Built-in Authoritative DNS
Support for A, CNAME, NS, MX, PTR,
SOA, SRV, TXT Records

Advanced QoS

User Groups
Bandwidth Reservation
Individual Bandwidth Limit
Application Prioritization
By User Groups
SIP, HTTPS, VPN QoS
Custom Application QoS

Caching

Video Caching
iTunes
iTunes U
ted.com
Content Caching
HTML
JavaScript
Image
Flash Application

Networking

NAT and IP Forwarding
Static Routes
Port Forwarding
Many to One, One to One NAT
NAT Pool
SIP ALG, H.323 ALG
UPnP, NAT-PMP
WINS Server

AP Controller

Support for Pepwave AP Series
Auto AP Discovery
Auto AP Firmware Management
AP Profile Configuration
Wi-Fi usage statistics

Load Balancing

Intelligent Failover
Session Persistence
Per-Service Load Distribution
Multiple Algorithms

Complete VPN Solution

PepVPN/SpeedFusion
Site-to-Site VPN
Bandwidth Aggregation
Intelligent Failover
256-bit AES Encryption
Pre-shared Key Authentication
Dynamic Routing
PPTP VPN Server
RADIUS, LDAP Authentication
IPsec VPN (Network-to-Network)

Device Management

Web Administrative Interface
Command Line Interface
InControl Cloud Managment
Router Utility Mobile App
Email Notification
Active Client & Session Lists
Bandwidth Usage Statistics
Syslog Service
SNMP v1, v2c and v3

Security

Stateful Firewall
DoS Prevention
Applications:
Deliver Uninterrupted, On-Demand Learning with Content Caching
Centrally Manage and Provision iOS Devices with MDM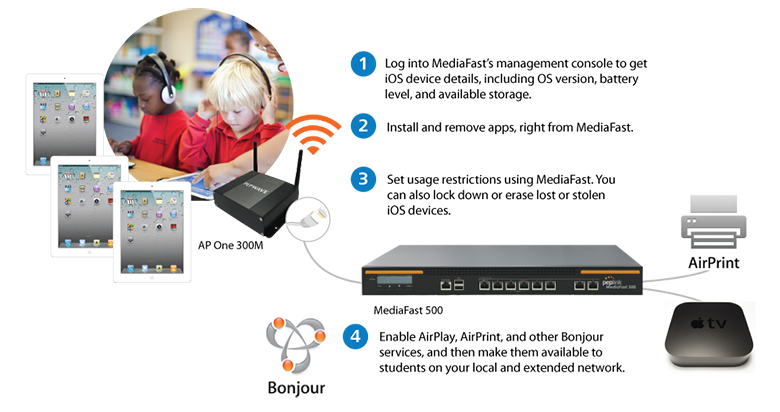 Accelerate Branch/Offsite Networking with Content Prefetching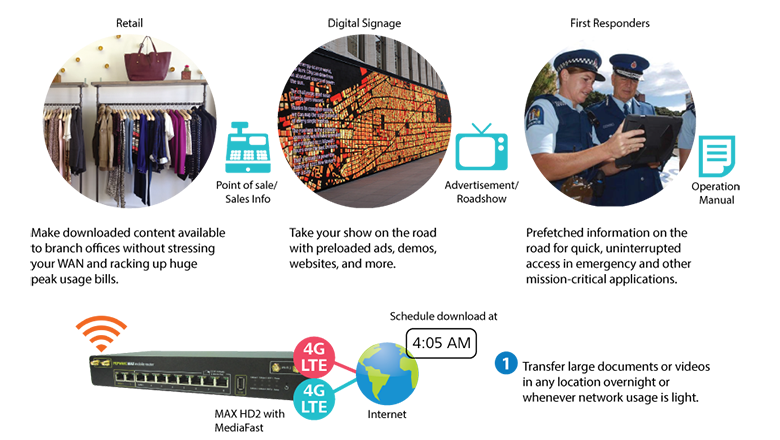 Turbocharge Existing Wi-Fi Hotspots with Cached Content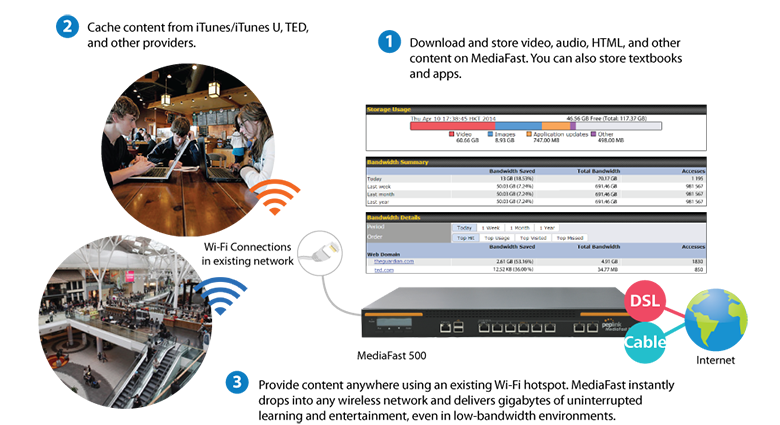 Compare:
 
Mobile Command/Vehicle/Hotspot
Branch Office/Hotspot
School/Campus
Model
MAX HD2 LTE with MediaFast
MAX HD4 LTE with MediaFast
MediaFast 200
MediaFast 500
Category
4G LTE + Wired
Wired Only
Ethernet WAN Ports
2
2
1/25
1/55
5
Embedded 4G LTE
2
4
Wi-Fi Interface
1x 802.11a/n or b/g/n as WAN
1x 802.11a/n or b/g/n as AP
1x 802.11a/n or b/g/n as WAN
1x 802.11a/n or b/g/n as AP
Simultaneous Dual-Band 802.11a/b/g/n AP
USB 4G LTE/3G WAN1
1
1
1
1
Disk Drive
120GB SSD
120GB SSD
120GB SSD
120GB SSD
240GB SSD
Cache Throughput2
150Mbps
150Mbps
150Mbps
500Mbps
Router Throughput3
80Mbps
80Mbps
80Mbps
250Mbps
Ethernet LAN Ports
8 (GbE)
802.3af PoE Output
8 (GbE)
802.3af PoE Output
8 (GbE)
802.3af PoE Output
3 (GbE)
Core Functionality
Load Balancing
6
6
Video Caching
Content Caching
InControl Cloud Management
Drop-In Mode
GPS Fleet Management
AP Controller
Manage Pepwave AP Series
Maximum Number of AP Supported
107
107
10/507
10/1007
VPN Functionality
PepVPN
SpeedFusion Hot Failover
6
6
6
6
SpeedFusion Bandwidth Bonding
6
6
6
6
Number of PepVPN/SpeedFusion Peers
2
2
2
2/508
50
Advanced QoS Functionality
Bandwidth Usage Monitor
QoS for VoIP and E-Commerce
User Groups Bandwidth Control
Web Blocking
Hardware
Power Consumption
38W
38W
38W
50W
1U Rackmount
LAN Bypass
1 For a list of supported modems, please refer to http://www.peplink.com/modem.
2 Cache Throughput refers to the speed of routing content from hard disk to LAN.
3 Router Throughput is based on Ethernet frame sizes of 1280 or 1518 bytes. Actual performance can vary across different networking environments.
4 MAX HD2 and HD4 with MediaFast is available in different configurations. Please refer to ordering information for details.
5 Only WAN 1 is activated. With purchase of optional Load Balancing or SpeedFusion Bonding license key, you can activate WAN 2 in MFA-200-W and WAN 2-5 in MFA-500-A.
6 Available as an optional add-on.
7 All MediaFast devices come with free license to manage 10 Pepwave AP devices. With purchase of optional AP Controller license, MediaFast 200 and MediaFast 500 can manage up to 50 and 100 Pepwave AP respectively.
8 MFA-500-A supports 2 PepVPN peers. With purchase of optional SpeedFusion License, MFA-500-A can connect to up to 50 SpeedFusion peers.
Pricing Notes:
Pricing and product availability subject to change without notice.
Peplink Multi-WAN Routers
Peplink MediaFast 200
#MFA-200-W
Call for Lowest Price!
Accessories
PoE Activation Kit
Includes 1x 48V Power Supply. Enables 802.3af PoE Output Ports (PoE License automatically applied after kit purchase)
#ACW-609
List Price: $79.00
Call for Lowest Price!
License Key
Load Balancing License Key for MediaFast 200
#MFA-200-LC-LB
Call for Lowest Price!
Load Balancing and SpeedFusion Bonding License Key for MediaFast 200
#MFA-200-LC-SF
Call for Lowest Price!
Peplink SmartCare
Extended Warranty