Peplink Pepwave MAX

Professional Bandwidth Bonding Router

Sorry, this product is no longer available, please contact us for a replacement.
Overview:
Features
6 WAN Load Balancing & Failover
Combine Bandwidth from Multiple Wireless Technologies
Automatically Switch to Best Available Link
Compatible with ExpressCard, USB, PC Card Modem
Connect to 3G HSDPA, EVDO ,Wi-Fi, WiMAX and/or Satellite
Dual Wi-Fi Built-in for Receiving Wi-Fi and Local Access Point
VPN Bonding for Bandwidth Aggregation
Bandwidth Allowance Control
4-Port Ethernet LAN Switch
GPS Support
The Ultimate Mobile Router.
The Pepwave MAX mobile router gives you the ultimate in mobile connectivity. With the ability to combine a variety of wireless services, the MAX gives you maximum reliability through automatic link failover and scalability with multi-WAN load balancing and VPN bonding. The Pepwave MAX brings wireline reliability to environments where no other solution can.
Seamless Mobile Connectivity, Anywhere!
There are countless mobile Internet options today: 3G cellular, Wi-Fi, Satellite, WiMAX, LTE, and more. However, coverage and speeds vary drastically between providers and locations. The MAX allows you to combine multiple wireless Internet connections, and intelligently manages them to accommodate the changing, moving environment. Everything is automatic, so you can stay connected and productive.
Faster Wireless Internet with Bonding.
VPN Bandwidth Bonding aggregates all your 3G and wired links, overcoming wireless link performance issues. Uploading pictures, streaming videos, or providing Internet for outdoor events has never been faster and easier. Simply add extra 3G links when you need higher speed and accelerate to ultimate speed on the run!
No Software, No Middleware, No Hassles.
The MAX has the unique ability to manage multiple Internet connections and security policies all from one device. You don't need expensive software packages, or confusing connection managers installed on all of your computers. Simply setup your Internet connections and security policies, and you are ready to go. You can have truly robust mobile communications without bringing your IT staff along for the ride.
Features Details:
WAN

Support PPPoE, Static IP, DHCP

LAN

Network

NAT and IP Forwarding
Static Routes
Port Forwarding
Many to One, One to One NAT
VoIP, SIP ALG, Vonage Support

VPN

VPN Bonding
IPSec and PPTP VPN Passthrough

Security

DoS Prevention
Stateful Firewall

Load Balance

Intelligent Failover
Per-Service Load Distribution
Multiple Algorithms

Weighted
Enforced
Priority
Overflow
Persistence
Least Used
Lowest Latency

Management

Web Admin Interface
Email Notification
Web Reporting Services Syslog
SNMP v1, v2c and v3

Warranty
Deployment: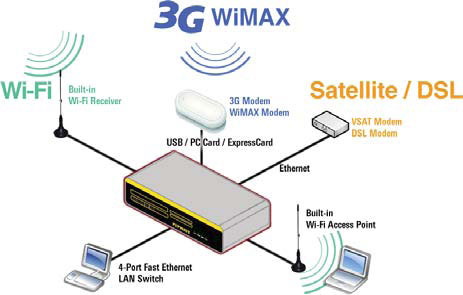 Applications:
Car
Reliable Internet on the Move
Share Internet Connection Using Local Wi-Fi Access Point
Fleet Tracking Using Optional GPS
Rail
Fast and Reliable Internet Service for Passengers
Stream Location Base Advertisement
Real Time News and Network Information
Video Surveillance over Central Site
Minimal Infrastructure Needed
Marine
Fast and Reliable Internet Service for Passengers
Automatic Failover to Different Internet at Different Location e.g. Wi-Fi at Port, 3G around Coast, Satellite at Sea
For use in Yachts, Cargo Ships, etc.
Public Transportation
Fast and Reliable Internet Service for Passengers
Stream Location Base Advertisement
Real Time News and Network Information
Video Surveillance over Central Site
Mobile Command
Reliability for Mission Critical Application
Seamless Integration into existing wireless infrastructure e.g. City Wi-Fi
For use in Police Command Units, Fire Vehicles and other Public Safety vehicles
Media
Live Digital Video Stream via Internet
Send Digital Footage to Studio using Internet
Faster Photo Transmission on the field
Essential for a complete Digital Broadcast Infrastructure
Landline Replacement
Take Advantage of the 3G Internet Speed
Scale Internet for Office Need
Broadband Internet Solutions for Event Organizer
Enjoy the Same Internet Even When You Move
Remote Area
Reliable Internet Access in Remote Location
More choice in for Remote Networks
Technical Specifications: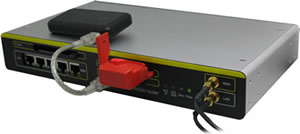 Pepwave MAX mobile router with Wi-Fi WAN, Wi-Fi AP, USB Modem, and Express Card modem placed.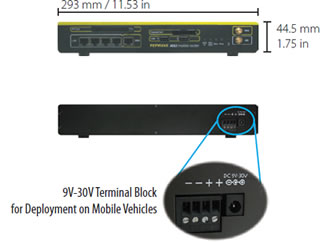 Model
Pepwave MAX 600
Product Code
MAX-600
Functionality
Wi-Fi Receiver
Wi-Fi Access Point
Mode
Router (NAT) Mode
Wi-Fi Specification
WAN

200mW 802.11 b/g
1 x Express Card 34
1 x PCMCIA Card (PC Card)
2 x USB
1 x Ethernet WAN

LAN
200mW 802.11 b/g
4-Port Fast Ethernet Switch
Operating Frequency
2412-2462Mhz
Hardware
Antenna
2 x 5dBi Indoor Magnetic-base Antenna
Antenna Connector
2 x RP-SMA Female Connector
Enclosure
Ruggedized Metal Enclosure
Rack Ear Mount
Dimensions

293W x 159.5D x 44.5H mm.
11.53W x 6.28D x 1.75H in.

Weight
1.2kg
2.64lb.
Operational Specifications
Power Input
AC Adapter: AC Input 100-240V / DC Output 12V
Terminal Block : 9-30V DC
Power Consumption
23W (max.)
Operating Temperature
-40~65°C
-40~149°F
Humidity
15 to 95%
Misc.
Certifications
CE, FCC, RoHS
Warranty
One-Year Limited Warranty
Support Services
Standard Support Services

Unlimited 8 x 5 Email Support
90 Days Telephone Support Calls
Standard RMA Service
1-Year Firmware Upgrade
1-Year Hardware Warranty

Peplink TotalCare

Unlimited 24 x 7 Email Support
Telephone Support Calls
Advance RMA Hardware Replacement
Firmware Upgrade
Hardware Warranty
Valid for 1-Year or 3-Year