Pepwave Surf On-The-Go

The Ultra Flexible Router
Sorry, this product is no longer available, please contact us for a replacement.
Overview:
Compatibility. Out-of-the-Box Support for Most Modems.
The Surf On-the-Go supports 200+ USB cellular modems from more than 100 carriers. Odds are, you can plug in and start surfing instantly. But if not, just connect your modem and turn on Remote Assistance – our engineers will get right to work on adding support for your modem.
Versatility. Wired, Cellular, and Wi-Fi WAN at Your Service.
The Surf makes it easy to connect via Ethernet or USB cellular. You can even use Wi-Fi for WAN connectivity. And once you're online, you can share with as many devices as you like, even in a moving vehicle. All from a tiny mobile powerhouse that fits in your pocket.
InControl. Anytime, Anywhere Cloud Management.
Like all Pepwave Wi-Fi technology, you can manage your Surf On-The-Go easily, quickly, and from just about any device with our cloud-based InControl system. InControl is free, it's everywhere, and it's just what you need to get all your devices working together as a team.
Application:

Mobile Entertainment Center – Get More Fun on the Road with Fast 4G Wi-Fi
Got a fast USB 4G/3G modem? Share the speed and convenience of cellular Internet connectivity with the Surf On-The-Go's plug-and-play Wi-Fi technology and unparalleled modem compatibility. Just connect your cellular modem and surf with all your devices at RV parks, sporting events, marinas, and everywhere else you roam.
Travel Buddy – Carry a World-Class Hotspot in Your Pocket.
It may be tiny, but the Surf On-The-Go packs big-time hotspot features. Wherever you land, this tough little travel companion gets you connected quickly, easily, and wirelessly. It even remembers your login details, so you can plug into any available Ethernet connection and get right down to business. Or play.
Extend Wi-Fi services – Connect without Limits.
The Surf On-the-Go supports an unlimited number of connections, so everyone's invited to the Wi-Fi party. And thanks to the Surf On-The-Go's high-powered radio, you can share your connection throughout a conference area, across a factory floor, or with an entire block of rooms. You can even use the Surf On-the-Go as a long-range repeater for city-wide Wi-Fi or Wi-Fi that really goes the distance.
Build your own workstation – Bridge the Gap between Wired Devices and Wireless Networks.
Now even legacy technology can get on the network without wires. Simply connect your wired device and let the Surf On-The-Go link you directly to the Internet or to any device that accepts wireless connections. Fast wireless connectivity for game consoles, printers, surveillance cameras, and other Ethernet-only devices is plug-and-play easy with the Surf On-The-Go.
Specifications:
 
Surf On-The-Go
Product Code
SUS-AGN1
Ethernet Interface
Ethernet Port
1x 10/100M Ethernet Port
USB Interface
USB Port
1
Wi-Fi Interface
Data Rate
2.4GHz: 150Mbps/
5GHz: 150Mbps
Wi-Fi frequency
802.11b/g/n or 802.11a/n
Transmit Power
2412 - 2472 MHz: 17dBm
5180 - 5825 MHz: 17dBm
Hardware Feartures
Included Antenna
5dBi Dual-band Omni Antenna
Antenna Connector
RP-SMA Connector
Enclosure
Compact Form Factor
Indoor Plastic Enclosure
Dimension
3.7 x 3.6 x 1 inches
94 x 90 x 25.5 mm
Weight
0.21 pound
95 grams
Operations
Security
802.1x, 64/128-bit WEP, WPA, WPA2, 802.11i
Power Input
AC Adapter: AC Input 100 - 240V, 1A
DC Output 12V, 1A
Power Consumption
5W (max.)
Operating Temperature
-20° - 65°C / -4° - 149°F
Humidity
15% - 95% (non-condensing)
Certifications
FCC, CE, RoHS
Warranty
1-Year Limited Warranty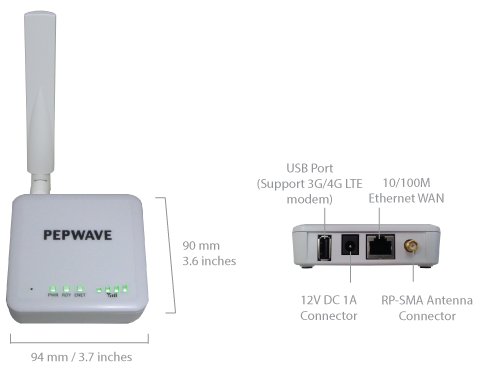 All specifications are subject to change without notice.
Pricing Notes:
Pricing and product availability subject to change without notice.